Why hire a property consultant?
May 7, 2021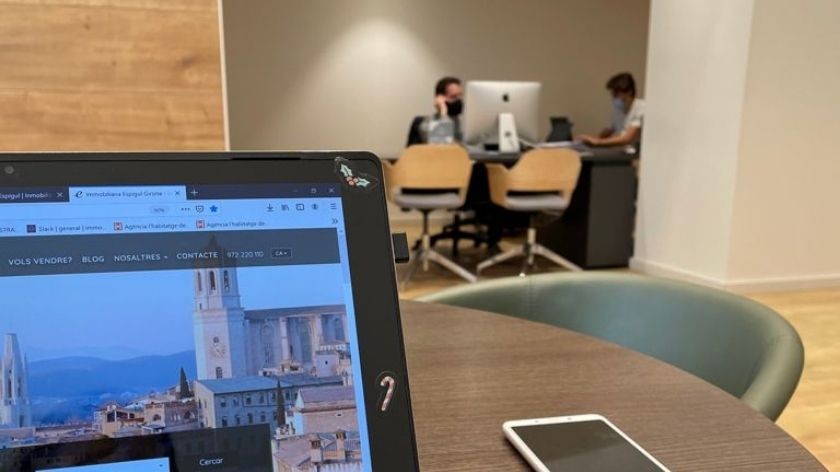 Selling a property that has been your home for many years can be a difficult decision to make. It is also possible that you have a property that is more of a hindrance than a service and you want to make the most of it. Or you may even find your dream home after a lot of searching, but first you have to sell yourself.
If you find yourself in a similar situation to the ones we have just described, it is normal that you don't even know where to start. Selling a property is a complex and lengthy process, and what better way to do it than with the help of a professional?
r real estate agent?
The best clients deserve the best advice, which is why at Inmobiliaria Espígul we have more than 30 years of experience and a great team of more than 40 professionals in the construction and real estate sector.
After all these years working in the real estate sector in Girona, we know that advising you and being accompanied by a real estate agency makes the sale of your property an easy, safe and profitable process.
7 reasons to hire the services of a real estate agent
Save time. Real estate consultants will be in charge of taking calls and showing the property to potential buyers. Time is one of the key factors when deciding to hire a real estate consultant.
Speed in bureaucracy. It is necessary to have a series of documents in order to sell or rent a property. The real estate advisors know perfectly all the documentation to present and that everything is correct.
Quality potential buyers. Real estate agencies have updated databases of potential buyers or tenants who are interested in a property with similar characteristics.
Transparency and simplicity in communication. They make a process that is normally quite complicated easy and quick to carry out.
Immediacy in the agreement. The negotiation process will be easier, as they will be able to guide you to reach the best purchase-sale agreement.
Selling at the best price. Analysis of the selling price of the property and market study of the area where the property is located. Crucial factors to make a good sale.
Security. It is a good option to avoid scams or frauds, as the documents of your potential buyer are always checked and verified to ensure the transparency of the process.
Advantages of hiring a property advisor from Espígul
From the first moment you contact us, we assign you a personal real estate advisor to guide you through the whole process of selling or renting a property.
This advisor works exclusively for you, your time is our priority and we take care to make the process as easy and quick as possible so that you don't have to worry about anything.
"We are committed to resolve all the doubts that may arise throughout the process. This aspect is a priority in our day-to-day work".
Xevi Vila, Inmobiliaria Espígul commercial coordinator
We then take care of making the most suitable valuation for your property and finding the ideal buyer from the wide range of interested parties. We position your property at the top of the search engines with personalised advertising. Together we will get the best deal and close the sale with maximum profit.
What makes us different from other estate agents in Girona?
Added value. We always look for added value to the properties we have for sale. We offer a high quality photographic report, multimedia videos, specific posters… So that your property stands out from the rest.
Premium advertising. The flats advertised with Espígul are in the highest positions on Internet portals such as Habitaclia, Idealista, Fotocasa… with unique and exclusive advertising for your property. We also work with offline media such as Punt Avui or Diari de Girona, leading newspapers in Girona.
Follow-up. At Espígul we like to accompany you throughout the whole process of selling your property. We assign you a real estate advisor, we monitor your needs and to all this we give you an extra plus with our own space on our website where you can receive reports and statistics and be in permanent contact with your personal advisor.
Trust and guarantee. One of the essential requirements before choosing a real estate agent is trust. We want you to be able to enjoy the sales process without any additional problems. The Espígul team is committed to advising you and being at your side so that you can successfully achieve your sales objective.
Transparency. Clarity. Commitment. Three adjectives that define the essence of Espígul.
If you want to sell your property, Espígul is your trusted estate agent in Girona. We make the process as quick and easy as possible.
If you would like more information, do not hesitate to contact us at hola@espigul.com or call us on 972 220 110.