Tips for turning a rented flat into a home
June 23, 2021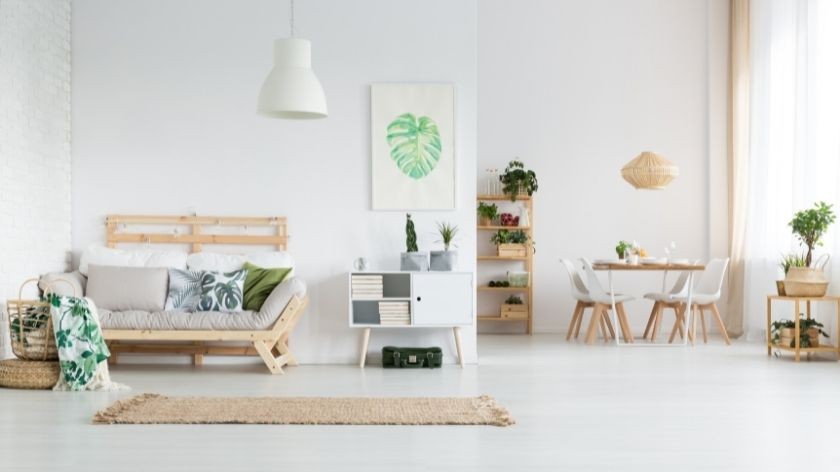 The first thing you need to do is to change your 'chip'. Really believe that you are in your new home and feel at home from the first day.
1. Make the most of the walls.
Walls are a sticking point, as not all homeowners are open to the fact that changes are being made. That's why we propose different ideas so that you can choose the one that best suits your needs:
Painting: this is an easy and economical solution to completely change the essence of the flat. Always remember to consult with the owner beforehand
Wallpaper or vinyl. These are alternatives to change the colour and appearance of the walls, but they can be easily removed.
Paintings. You can put them on walls, on top of shelves… Choose pictures that you like and that make you feel comfortable in the room. You can also put different pictures in a collage.
2. Change the lamps.
They can be the change you are looking for in the dining room, hall or bedroom without making any structural changes to the house. Change the typical halogen lamps for lamps with a design that you like, add points of light with floor lamps or take advantage of the trend for LED lights to illuminate the room in a subtle way.
3. Decorate the bathroom
The bathroom is usually one of the most problematic rooms, many bathrooms in rented flats are old and with few possibilities. In order to give the bathroom a new look, what we can do is decorate it with three essential items: plants, a mirror and a chair.
Plants add a lot of warmth to a room. If you don't know which are the best indoor plants to have in your home without them dying after two days, don't miss this post.
4. Furniture for now and later
We have to learn not to wait. Do not wait for the fact that it is the definitive house to make an investment in furniture or decoration that we like. The time is now and then you can always take it to your new home and enjoy it twice as much.
5. Personalise with objects chosen by you.
This is a fundamental point in order to feel that the house is yours. Choosing decorative objects that you like, that reflect your personality, or even using souvenirs, is essential to achieve your goal.
6. When you move house, take everything out of the boxes.
Perhaps this is an obvious point, but when you don't know if it will be your permanent home, sometimes you tend to leave things for later, so as not to make a double effort. Having boxes around, even in a room you don't use, makes you feel like you'll never finish.
7. Take care of textiles
Good quality textiles can make all the difference in a flat. We are talking about curtains, cushions, sheets, carpets… Making a good investment in all these elements is worth it because we can take them with us wherever we go,
At Espígul Real Estate we have more than 30 years of experience in the management of rental properties. If you want to find a flat to rent that meets your needs in Girona or nearby, or if you own a flat and want to rent it, you can contact us at hola@espígul.com or call us on 972 220 110.