The new service you should know if you want to sell your property quickly, safely and satisfactorily.
June 18, 2020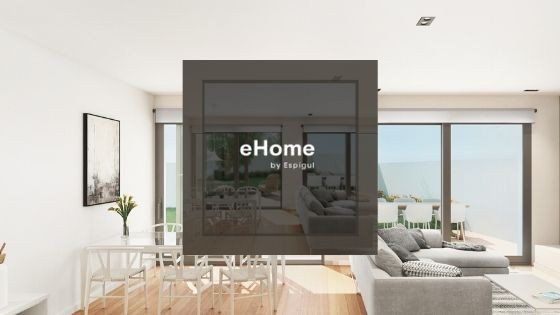 What is eHome?
A new concept of real estate that adapts to the digital apps and the new needs of the owners. From the experience of Espígul Real Estate and aligned to the technological revolution we offer online real estate services with all the reliability, experience and know-how of your trusted real estate agency. With eHome everything is easier and you can sell your flat and house at the best price, quickly and successfully.
The main advantages of the new service are:
The management from the appraisals to the closing of the sale is online.
You'll sell your flat or house without any extra fees.
You will have a business advisor who will give you the best advice throughout the process.
We apply our methodology to sell faster.
For only 2,990 euros (+ vat), we will manage the sale of your flat / house / commercial premises / parking lot / industrial premises in the fastest way and where you will be able to earn more money.
What should I do as a homeowner to sell my home?
We will advise you at every step, so you simply have to visit your future buyer on the day and time that suits you best, as we will take care of taking the client and scheduling the visit. Once it's done, leave it to us, we'll take care of the rest.
What should I do as a homeowner to sell my home?
1. Totally online. We will make an online valuation of your property and in less than 24 hours we will have already started working on its sale and you will see it posted on more than 50 real estate portals.
2. Personalised and real assistance. We will personally assign you one of our real estate consultants who will contact you by phone to help you and guide you in the best way to sell your property quickly.
3. Accompaniment throughout the process. You will always have your real estate advisor at your side to help you make the best decisions and to offer you all kinds of advice on buying and selling.
4. Client selection. We select the most optimal profiles for the purchase of your property so that you do not waste time and the sale is quick and effective.
5. We organize the visits. Schedule visits according to your availability for your convenience. We know that there is no one better than you to explain all the strengths of your home.
6. Negotiation. We act as a bridge between you and the buyer client to negotiate the conditions of the purchase so that you do not have to worry about anything.
7. Documentary management. We draw up the contract of sale and accompany you to the notary's office for the public deed of sale.
We recommend 7 top tips to get your flat or house sold in record time.
1. Premium positioning to all portals Do you want your property to appear in privileged positions within the real estate portals? We take care of it and in this way increase exponentially the number of buyers of your house.
2. Professional photography. One of our professional photographers will come to do a photo session of your house to generate many more visits and make the sale of your property faster and easier. A picture is worth a thousand words, and in real estate, even more!
3. Home Staging. A beautiful house where the decoration is totally studied and in harmony, is always easier to sell and at a higher price. In order to have the apartment in perfect condition, we offer you our "Espígul home staging" service, where a team of interior designers and decorators will give that special touch to your home to make it special for the buyers.
4. Professional cleaning. Increasingly, people are hiring professional cleaning services 1 or 2 times a year to make their home look like the first day. The first visual impact of a house is the cleanliness and the smell, don't you think it's worth it? We offer you a professional cleaning service so you don't have to worry about anything and enjoy your free time.
5. Virtual guided tour. A study determines that the properties where we have done guided tours and that have been published in our social networks and real estate portals, have received an avalanche of requests for more information, precipitating the almost immediate sale. We are experts in the field, let us introduce your flat to our fans and let them get to know it before they visit it, the result is guaranteed.
6. Exclusivity in social networks. We're a leader in followers and content on social networks with over 3,500 followers on Instagram, most of whom are potential buyers. Do you want us to publish pictures of your house? An immediate and widespread media.
7. Newsletter. We have a large number of subscribers to our monthly newsletter, which is sent to our customer and fan database. If you would like your property to be advertised exclusively in these emails, please let us know so that we can include it and reach even more potential buyers.
Do you want to sell your house? From eHome everything is easier. No matter where you are from or where your property is located, we will take care of selling your flat or house at the best price and with all the guarantees.