The energy performance certificate in a house
November 4, 2021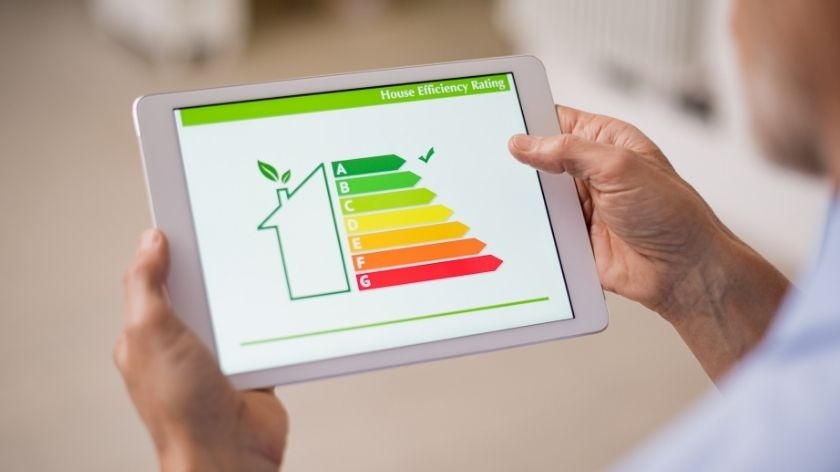 What is the energy efficiency certificate?
The energy efficiency certificate is a document that accredits the energy consumption that a home needs to satisfy its demand under normal operating and occupancy conditions.
This calculation includes the production of hot water, heating, lighting, cooling and ventilation. It also takes into account elements such as exterior enclosure materials, carpentry, the type of windows or air conditioning systems. In other words, all those elements that directly or indirectly influence the energy efficiency of the home.
What are the values of the energy efficiency label?
The energy efficiency label is very similar to the one that we can find on household appliances from a long time ago, which goes from A to G.
A dark green: represents the highest degree of energy efficiency.
B light green: a house that maintains its efficiency.
C greenish yellow: the property is less efficient, but maintains its efficiency.
D yellow: this is a medium efficiency rating, it could be considered 'normal'.
E orange yellow: the property has a low energy efficiency.
F orange: the property has a poor energy efficiency rating.
G red: this property has no energy efficiency at all.
This is very important information for assessing the energy potential of each property and allows the future buyer or tenant to get a clear idea of the energy quality of the house.
In fact, since 2013 this energy efficiency label is a mandatory certification in any buying/selling or renting process.
Is it compulsory for all properties?
In the following cases:
Buildings and monuments officially protected for their particular architectural or historical value.
Religious buildings and places of worship.
Buildings with a total usable area of less than 50 m².
Workshops or living quarters and not intended for residential use.
Buildings which, due to their characteristics, must be open.
Provisional buildings that are less than two years old since their construction.
How can I get it?
Obtaining the energy efficiency label is relatively simple, you can manage it in two steps:
Find an authorised certified technician in your area and make an appointment for them to assess the state of your home. He will generate a report with all this information that you will have to keep.
Register the certificate. Once you have the report, you have to present it to the competent body in your autonomous community so that they can verify that everything is correct and can register it. Once it is registered and approved, you will have the energy efficiency label.
At Espígul we also specialise in the construction of new houses and flats in various locations such as Girona, Vilablareix, Fornells de la Selva, Sant Gregori… where energy efficiency is one of our priorities.
We follow criteria for maximum efficiency, favouring the rational use of energy, while taking care of the environment, quality and indoor climate comfort. Therefore, we believe that the architectural design process has to incorporate design parameters that reduce the building's energy demand and improve indoor comfort.
This, in our view, should not be achieved with sophisticated machinery, but with the passive design of the building itself adapted to the climate in which it is located. They do not require products or materials different from those of traditional construction, but simply the optimisation of existing resources through passive techniques.
The result is homes with minimalist lines, interior climatic comfort, large windows, maximum efficiency and adapted to the environment.
At Immobiliària Espígul we fight for a more sustainable world with our houses. If you want more information you can contact us at hola@espigul.com or call us at 972 220 110.