Save Money and Customize Your Home
October 26, 2023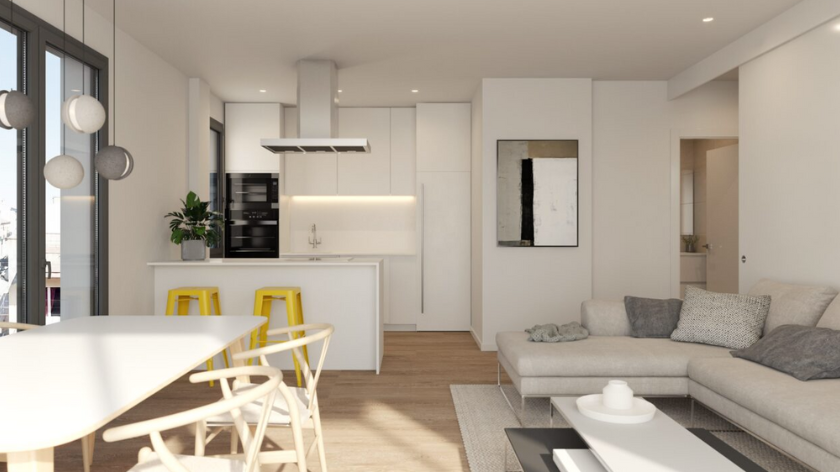 What would it be like to buy a home that perfectly suits your dreams? What if I told you that this is possible with the purchase of a house on plans in Girona?
First of all we want to tell you the benefits of buying on plans and how payments are structured in this process that can sometimes be stressful.
If you've ever wondered about the advantages of buying a property under construction, you've come to the right place! In Immobiliara Espígul we have promotions of new build apartments in the city of Girona.
What does it mean to buy on plans?
Before we dive into the benefits, it is crucial to
Before we dive into the benefits, it is crucial to understand what it means to buy a home on plans. When you shop on blueprints, you are acquiring a property that is still under construction. This approach offers a number of advantages that are simply not found when buying already built properties.
Benefits of Buying on Plans
Knowing when is the best time to buy your flat on plans is the most important thing. We begin by detailing the benefits of buying your property on blueprints.
Flexibility in Design:

Have the opportunity to customize your home from the beginning. That's possible with buying flat on plans, you can choose finishes, colors and details that suit your lifestyle.
Competitive Prices:

When you shop on plans, you often find more attractive prices than in the market for already built properties. In addition, Espígul offers exclusive promotions and discounts.
Controlled Delivery Times

: When you buy on plans, you have a clear estimate of the construction phases to be able to know at every moment the deadlines and delivery date.

 

From the beginning of the process you have a person who will be your advisor to resolve all doubts throughout the construction.
Promotion Flats Espígul Obra nova
Discover the Promotion in Girona: Rutlla 217
An excellent opportunity to experience the benefits of buying on plans is presented in the housing development in Girona, Rutlla 2171. Located in a privileged enclave of the city, this promotion offers a unique living experience. With carefully designed rooms and with the latest advances in technology and amenities. Rutlla 217 is the ideal place for those looking for a modern and functional home in Girona.
Thanks to our team of architects and interior designers you can be up to date with the entire construction phase to design each stay to your liking.
Also, how are payments structured in this promotion?
When you shop on blueprints at Rutlla 217, payments are intelligently distributed throughout the construction process. This method provides great financial flexibility to buyers, allowing them to plan their finances effectively while watching how their future home takes shape day by day.
Buying on plans represents an opportunity to acquire a property designed to your liking and saving money. Having the contemporary and comfortable lifestyle that you have wanted so much, is now real.
Don't wait any longer to explore this exciting housing option and contact our team.